KOBRA Red Dot Sight
Edit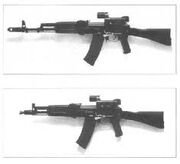 The KOBRA red dot sight is a quike aquasition sight for AK weapon systems such as theDragunov SVD, AK-74 and AK-100 series rifles. The KOBRA sight has 16 brittness settings for the red dot allowing the soldier to be able to fight in night battles much more effectivly. The KOBRA sight can be mounted on the side of any AK weapon system as well as other weapons.
Increased Effectivness
Edit
The KOBRA sight has proved to be a worthy investment by the Russian Army. The KOBRA sight is 100% water proof. Research states that a soldiers effectivness had doubled a soldiers aiming effectivness by day and 5 times at night.
The KOBRA has been chosen by the Spetnaz as a quike response sight allowing soldiers to easily react to targets. With 4 different sights red dots to chose from with a flick of a button the KOBRA is one of the most effective sights avalible.
Ad blocker interference detected!
Wikia is a free-to-use site that makes money from advertising. We have a modified experience for viewers using ad blockers

Wikia is not accessible if you've made further modifications. Remove the custom ad blocker rule(s) and the page will load as expected.